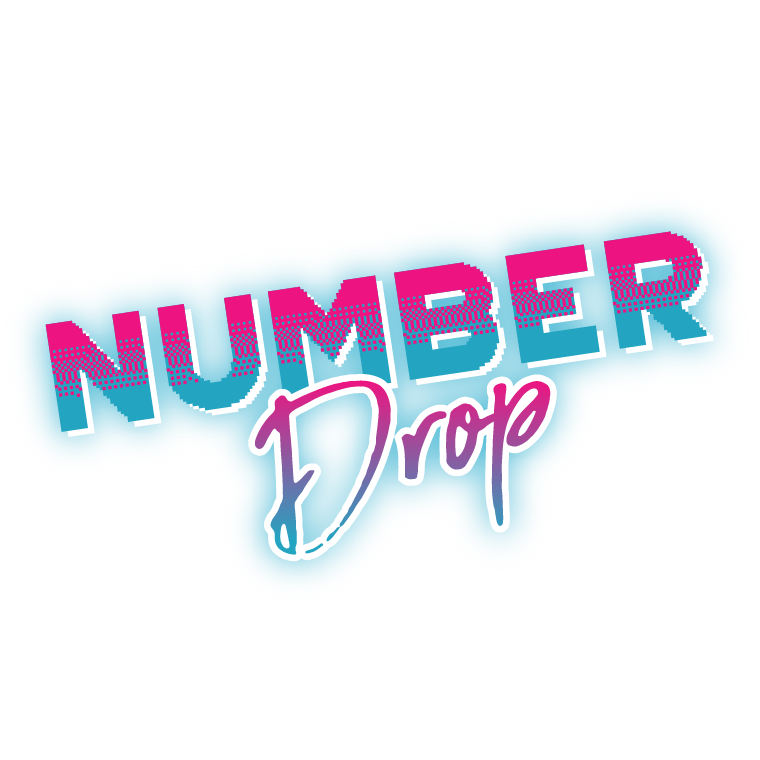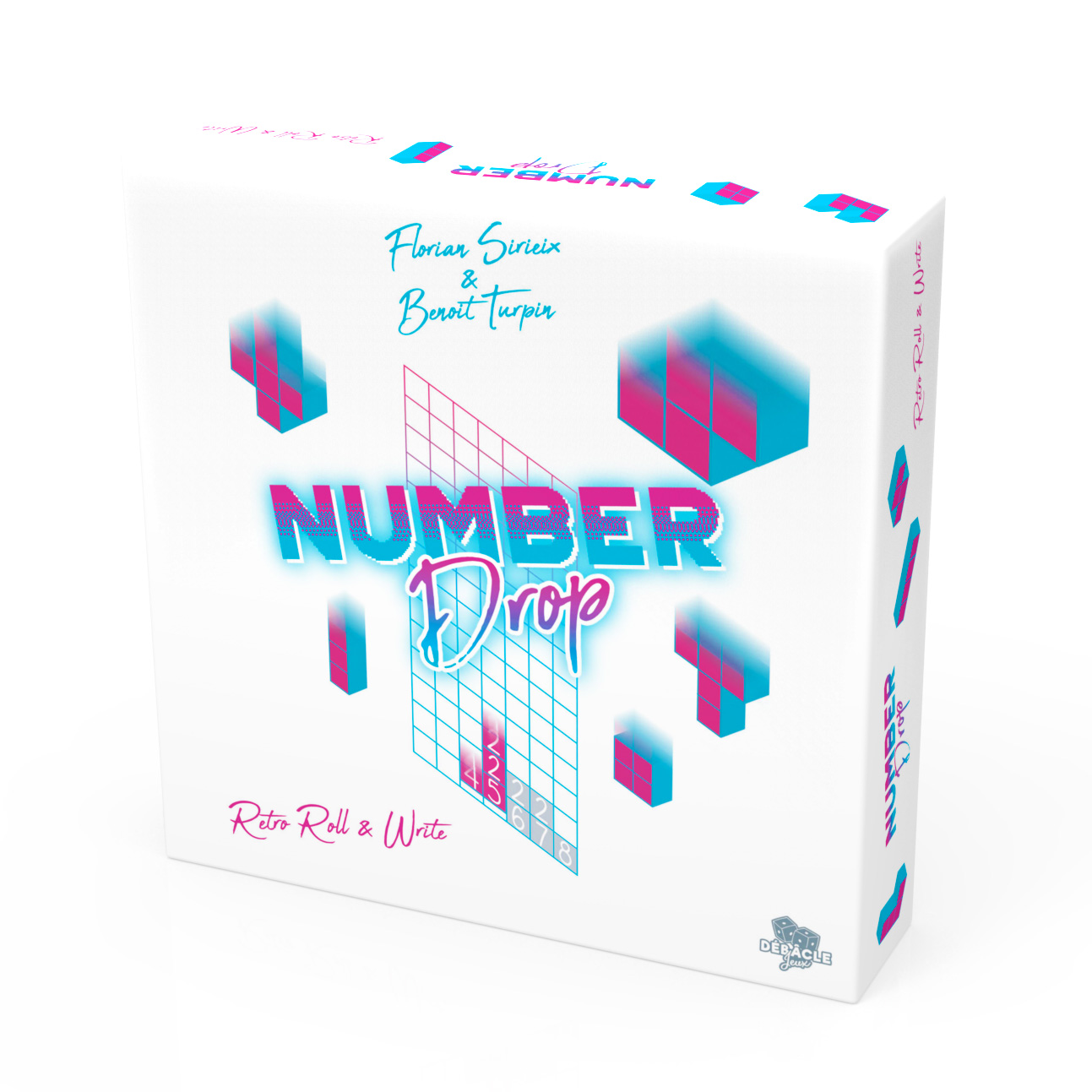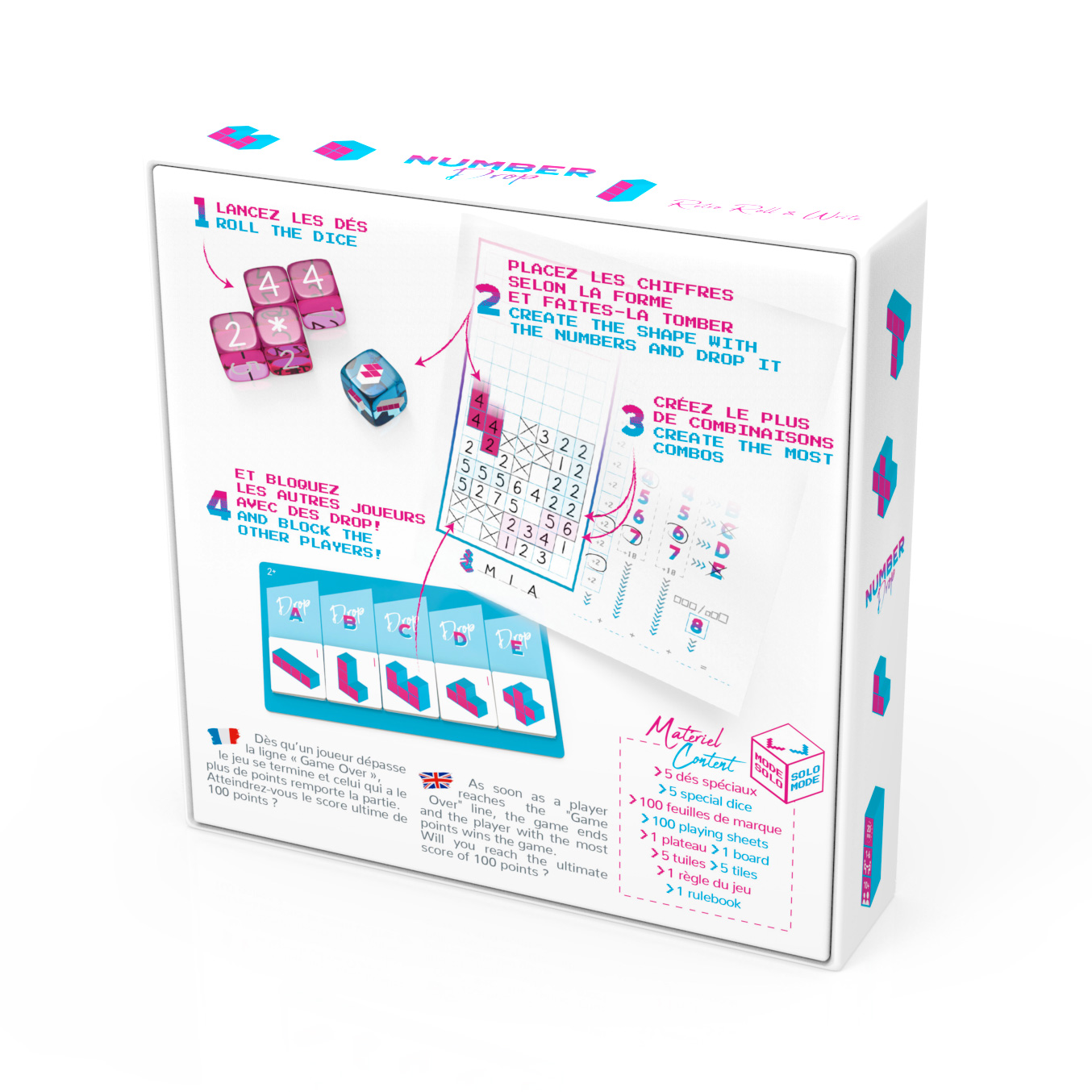 Number Drop
Retro Roll &Write
Auteurs/Designers : Florian Sirieix & Benoit Turpin
Date de sortie : novembre 2021/Release date : 2021 November
Langue : Français/Language :  English
Distribution : Ludistri pour les pays Francophone ( France, Belgique, Suisse et Canada) et AEG pour le reste du monde/Ludistri for French speaking countries (France, Belgium, Switzerland and Canada) and AEG for the rest of the world.
Lien BGA/BGA link: https://boardgamearena.com/gamepanel?game=numberdrop
L'atmosphère rétro aux couleurs néon de Number Drop mêle futurisme et nostalgie des années 80. Vous apprécierez cette adaptation moderne d'un jeu vidéo rétro, où votre but sera de remplir votre grille de lignes de chiffres (et non de briques comme dans les années 80 !).
Les points forts
Mécanique : un jeu à cocher avec des dés,, combinaisons, gravité, jeu en simultané
Profondeur stratégique, courbe d'apprentissage
Interaction entre les joueurs
Mode solo et mode multi joueurs
Une thématique d'inspiration Retrogaming au style graphique épuré
Number Drop is a Roll & Write game by Florian Sirieix and Benoît Turpin. The retro atmosphere with neon colors of Number Drop combines futurism and nostalgia of the 80s. You will enjoy this modern version of a retro video game, where your goal will be to fill your grid with lines of numbers (not bricks!).
Highlights
Mechanics: a checkered game with dice, combinations, gravity, simultaneous play
Strategic depth, learning curve
Interaction between players
Solo and multi-player modes
Retrogaming-inspired theme with a clean graphic style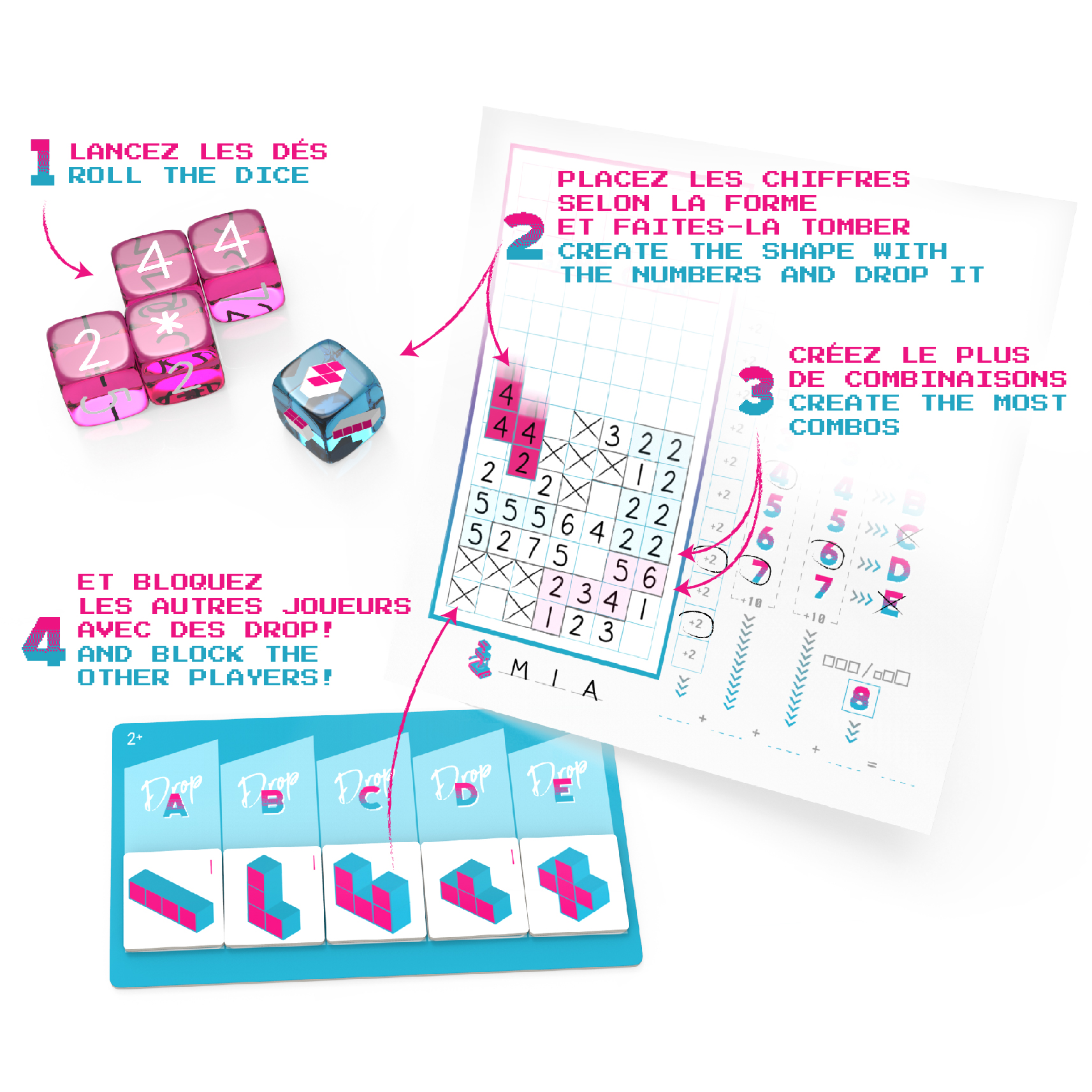 But du jeu : Number Drop est un jeu de Roll&Write. Le principe est de tirer profit d'un jet de dés commun à tous les joueurs pour obtenir le meilleur score. Dans Number Drop, vous jouez avec 5 dés : 4 dés de chiffres (allant de 1 à 7 et répartis équitablement), et un dé de forme.
Déroulement du jeu : A chaque tour, les joueurs doivent combiner les 5 dés pour créer une forme contenant les 4 chiffres. Il vont ensuite faire « tomber » cette forme dans leur grille, et essayer de la placer de manière à ce que les chiffres de toutes les formes soient organisés en suites de chiffres ou en séries de chiffres identiques. Valider des séries ou des suites permettra aux joueurs de marquer des points, mais aussi d'envoyer des Drop dans les grilles des adversaires pour contrer leurs plans. Qui sera le plus malin ?
Fin du jeu : Dès qu'un joueur a dépassé la ligne « Game Over », la partie se termine et celui qui a le plus de points remporte le jeu. Atteindrez-vous le score ultime de 100 points ?
5 dés spéciaux
100 feuilles de marque
1 plateau
5 tuiles
1 règle du jeu
Goal of the game : Number Drop is a roll & write game. The goal is to make the best out of a common dice roll. In Number Drop, you play with 5 dice : 4 numbered dice (from 1 to 7, evenly distributed) and a shape die.
Game turn :  Each turn, players must combine the 5 dice to create a shape out of the 4 numbers. They will then drop that shape on their grid, and try and place it in such a way that the numbers of the shapes end up organized in series of identical or consecutive numbers. Creating these series will allow players to score points but also send blocks onto their opponents' grids to mess up with their plans.
End of the game : As soon as a player reaches the Game Over line, the game ends and whoever has the most points is the winner. Will you reach the ultimate score of 100 ?
5 special dice
100 playing sheets
1 board
5 tiles
1 rulebook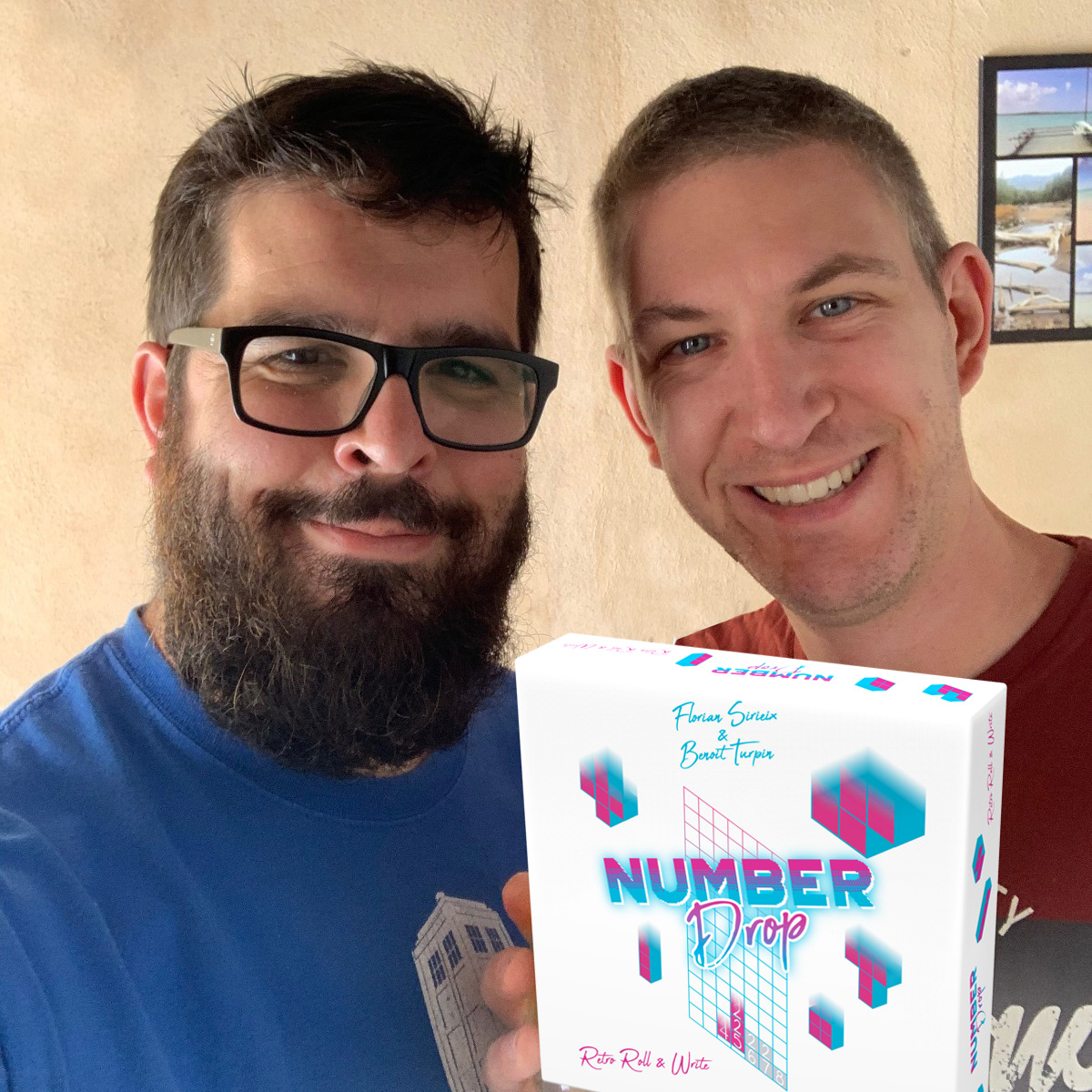 Benoit Turpin
Auteur / Designer
Membre fondateur du MALT (Mouvement des Auteurs Ludiques Toulousains), a grandi avec les jeux de société et les amis qui vont avec. Depuis 2013, il s'est lancé dans une carrière d'auteur de jeux. Auteur d'Optimo! (2015), puis de Welcome (2018) et ses suites, et Prehistories (2020), il a depuis découvert que concevoir des jeux à plusieurs était encore plus sympa, même avec Florian! Il est aujourd'hui Président de la SAJ (Société des Auteurs de Jeux), l'association professionnelle de défense des auteurs de jeux. Il continue à créer et Number Drop est sa prochaine étape.
A founding member of the MALT (Mouvement des Auteurs Toulousains, a design group), grew up with board games and the friends who go with them. Since 2013, he started a career as game designer. He designed Optimo! (2015), then Welcome to… (2018) and its sequels, and Prehistories (2020). He has since discovered that designing games with others is even more fun, even with Florian. He is the current president of the SAJ (Société des Auteurs de Jeux), the french game designers' union, and he keeps and creating games. Number Drop is his next step in his career.
Florian Sirieix
Auteur / Designer
Professeur des écoles en Segpa, a commencé par créer un jeu en ligne en 2006, puis des jeux de société en 2012. Une première collaboration avec Bruno Cathala pour le jeu Imaginarium lui permet de lancer sa carrière d'auteur. Number Drop est son 12e jeu, et le premier d'une longue série avec Benoit Turpin.
A teacher for special needs students, started with designing an online game in 2006, then went on to design board games in 2012. A successful collaboration with  Bruno Cathala on the game Imaginarium helped him launch his game designer career. Number Drop is his 12th game, and the first of many in collaboration with Benoit Turpin.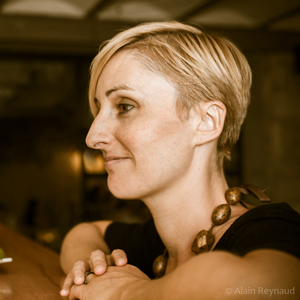 Lucie Hourdequin
Graphiste
J'ai vraiment aimé travaillé sur Number Drop, créer l'identité graphique d'un jeu abstrait a été un vrai challenge pour moi.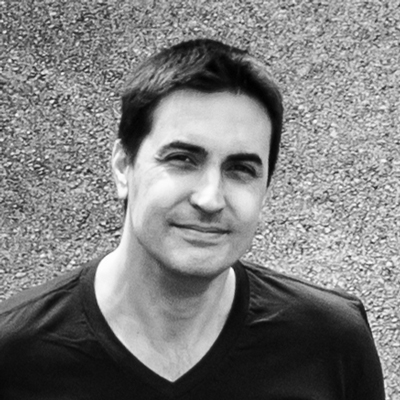 Emmanuel Soulié
Editeur
J'ai 2 passions dans la vie, les jeux de société et les jeux vidéos. Avec Number Drop les 2 sont comblées.
L'actualité de Number Drop